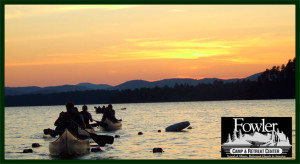 The Fowler Camp and Retreat Center enhances our ministry of Christian education.  This camp and retreat center, commonly called "Camp Fowler," is located on the shores of Sacandaga Lake near Speculator, NY, on property that was once an historic Adirondack great camp. Some of Camp Fowler's buildings are prime examples of this unique Adirondack architecture.
Camp Fowler is owned by the Regional Synod of Albany of the Reformed Church in America, and is a cooperative effort of the 100-plus Reformed Churches of upstate and western New York.  Camp Fowler has a year-round program of retreats and gatherings for adults, as well as a nine-week summer camping program for children, youth and families. Camp clergy.
First Reformed Church of Scotia has long been an enthusiastic supporter and user of Camp Fowler.  We consider Fowler an important part of our ministry.  We encourage the parents of our church to supplement the Christian education of their children and youth by sending them to Camp Fowler for a week in the summer.  We help them do this by offering scholarships that cover part of each camper's cost.
Learn more about the Fowler Camp and Retreat Center by visiting its website: http://www.campfowler.org/.